The Pilbara Higher Ed conference was held September 3-4 in Brisbane at the Rydges Hotel in Southbank. It was a great crowd and generated a lot of interesting discussions over the two day event. The focus of the conference was Data Driven Decision Making and in particular how cost and predictive models can be used to support university decision making. We had three excellent key note speakers, Chris Grange the Chief Operating Office of the Australian National University, Professor Alan Pettigrew University of Sydney senate, and Julie Hare freelance journalist and formerly the Higher Education editor at The Australian newspaper.
We were lucky to have Matt McDonough from Deakin University MC our event and he kept things very lively with numerous fun events including Family Feud, Sports Trivia (which wasn't my specialty) and a Paper Plane contest – which I should have won but was taken out by a champion paper plane engineer from Charles Sturt University, Simon Hall!
It was my table that won the overall competition and frogs (there was nothing underhanded at all, I even relinquished my Big Chocolate Haigh's Frog!!!). The win can be attributed to the Karaoke Kid – David Parker and sports trivia gurus Michelle Brooke and Gavin Ward plus some risky gambling that paid off 😉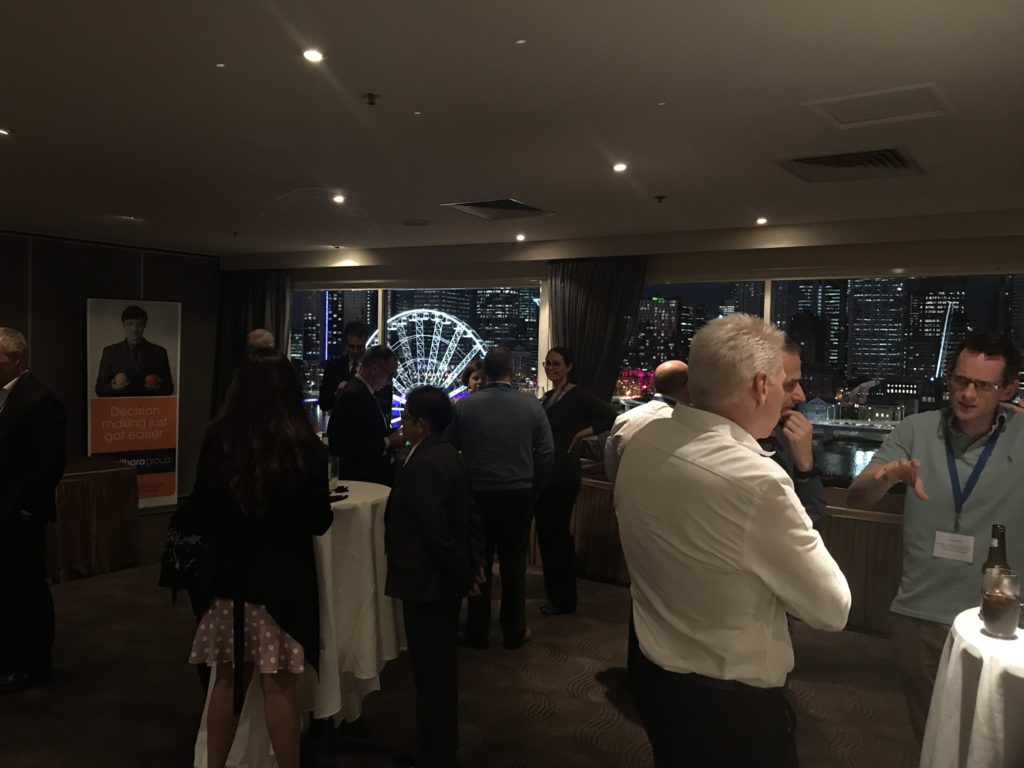 Key Note Speakers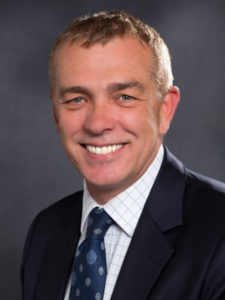 Chris Grange – COO ANU
Chris Grange opened the conference with an important question – "The Relative funding model has been around for 30 years. What if it's wrong?" He went on to explore government funding policy and other market pricing issues and how they translated into internal resource allocation and what universities need to do to regain control over their own futures.
As an example of where the funding model fails, he discussed languages at ANU.  Under the funding model, languages are in cluster 5, which in 2020 will have total funding of $19,992 per EFTSL.  The cluster includes a wide-range of languages including European languages, Asian, African as well as Australian Indigenous languages.
For comparison the cluster also includes Performing Arts, Visual Arts and Crafts, Graphic and Design Studies, Communication and Media studies and Other Creative Arts.  So we can immediately start to see some of the issues.  Also all languages are treated the same from a funding perspective even though it covers both living and dead languages and different alphabets and scripting.
Another problem is that it doesn't take into consideration the intensive research and discovery required for languages like Australian Indigenous languages to enable them to be taught for the first time.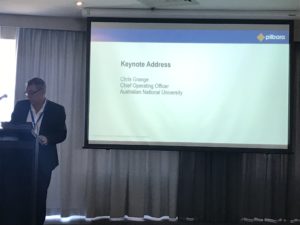 The big problem with funding models and especially static funding models is that they contain no strategic overlay. "How can a national priority for Australia to engage with Asia be incorporated into a funding model that equates all Asian languages with Norther European languages?", he asks.
Another issue is that neither the Relative Funding Model nor the Research Training models were informed by accurate data on University costs.
Chris then went on to discuss the university budgeting process and how funding models can influence internal university activity.
Finally he wrapped up his speech by discussing costing at ANU.  To use cost information for future and strategic decision making, he needs to not only know what the actual cost is…but what the cost SHOULD be.  This means he needs to study the costs doing each item well, referred to at ANU as "the cost of doing a good quality job". This analysis requires the participation of academic staff and a process of stringent review and questioning.
All of this is being done because the ANU has taken the strategic decision to not grow students. They will focus on the diversity of the student cohort and on their research, but the challenges will be enormous. To support this they are proposing a new budget model, one that ties into the strategic plan.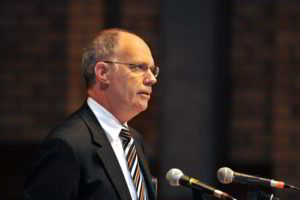 Professor Alan Pettigrew
Alan's presentation focused on Measuring and Managing Research Performance or "I wish I'd known that at the time…"
He mentioned that Higher Ed research rankings are important but don't tell the whole story. What are the trends across the higher education sector with respect to assessing the impact of national policy settings? What about the relative institutional performance with respect to the institution's policy settings? What about understanding performance of individuals as they relate to policy settings, strategies and expectations of the institution?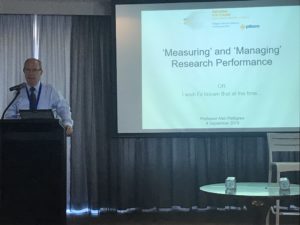 He suggests using Research Block Grants as a system for measuring institution performance, because it is nationwide, comprehensive and metrics based.  He went on to explain the RBG methodology, which, suffice it to say, is quite complicated!  Alan then walked the crowd through a series of analyses he has conducted on publicly available research data combining ERA and RBG and how all of the universities stack up.
So what would he have liked to have known?
Up to data data showing trends in research performance at institutional, Organizational unit and Discipline levels
Aggregate data at appropriate organizational levels -linking data on performance to 'business' data for review of outcomes from previous strategic decisions and planning.
Timely and appropriate data that guides the conversation with teams about their performance/strategies, supports institution's industrial context and informs HR strategies generally across the institution.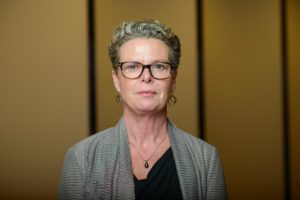 Julie Hare
Julie delved into crystal balling by trying to read the tea leaves on Dan Tehan's (Minister for Education) plans. She outlines his current work slate which includes:
Performance-based funding
The demand-driven system
Rural, regional and remote education strategy
Attracting international students to rural, regional campuses
Vocational education review
And Freedom of Speech; Contract cheating; AQF review; PCS review;  CSPs for enabling;  sub-bachelor and post-grad place; cyber security and foreign interference guidelines…Phew!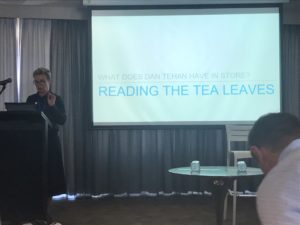 Julie's research into international attempts at performance-based funding suggest that it won't work and she is skeptical of the prediction that it will deliver $3.1 billion in productivity gains in a decade. But overall there is not a lot of money at stake so this is probably why there is a lack of resistance to it.
She states that the demise of the demand-driven system is not really a surprise as it was being floated as early as 2013 by Kim Carr and she suggests that the demand-driven system was a major contributor to the decline in publicly funded VET.
Rural, regional and remote education strategy are close to Dan Tehan's heart. There are seven recommendations which include:
Demand-driven funding for regional campuses
Better income support measures for RRR students
Modifying HEPPP to be RRR focused
Establish an RRR commissioner
Demand-driven funding for indigenous students
There is also the issue of providing additional post-study work rights and access to a new scholarship scheme for International students who choose to study at regional campuses.  It's reasonable to expect that those students most eager to take up RRR places will be those seeking permanent residency.
Julie also addressed the Joyce Review, Freedom of Speech, AQF Review, Provider Category Standards and wrapped up her presentation with some parting thoughts on whether there is an overarching or underpinning philosophy to all of this? Is a bifurcated system being created? As well as other issues that will play an important role on shaping the Higher Education sector over the next three years including a possible backlash against international student numbers, universities that find themselves in financial crisis and would the Government bail them out and declining graduate outcomes as a result of the weakening economy.
After Chris's presentation and Andrew Faulkner's presentation on bench marking costs, Julie wrote an article for The Australian looking at the difficulties of setting funding policy based on cost, when true cost can vary greatly and for very legitimate reasons – unfortunately the article is behind a paywall but I'll see if I can get permission to reprint in our newsletter and website for those without a subscription to The Australian.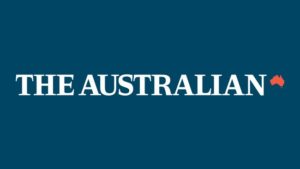 Other presenters
Other presentations at the conference included:
Bretlyn Bailey,  Deakin University – Discussing mistakes made in the initial implementation of their model and the relaunch of their ABC@D
Fred Reich, University of Wollongong, explaining his Program Cost Forecasting Tool – the Academic Decision Assistance Model.
Anita Anderson, Central Queensland University, discussing their journey with the implementation of the Executive Model and using it to answer the Department of Ed Cost of Teaching survey.
Wayne Poole, RMIT, explaining the challenges faced by dual sector institutions.
Andrew Faulkner discussing the University Predictive Model, going through the results of the detailed cost bench marking covering Go8, Metropolitan and Regional universities. He also presented on the different ways universities are using their cost models.
Emily Lait from Microsoft explaining Cognitive Services (AI) and how we don't even know we are accessing advanced AI when using Microsoft Office products.
Michelle Brooke going through the process of easily populating the Cost of Teaching survey from the Pilbara Higher Ed models for the Department of Education.
Matt McDonough, Deakin University, describing the challenge of managing a faculty by bridging the economic pressures and the social contract promulgated by academic leaders and how they use data to support this.
Adam Gallard going through some advanced uses of Microsoft Power BI.
Rod Colledge and Fabio Braga presenting the Intelligent Data Platform with Azure Data Services and providing a run down of Azure Machine Learning including propensity modeling e.g How likely is it that a student will drop out of a course or change course or fail.  Unless you are a data scientist then it's difficult to choose a specific algorithm and parameters. Using Automated Machine Learning it will run through a range of different algorithms & parameters and will rank them to make it easier for you to use.
Overall we really enjoyed the event and hopefully the attendees did as well. More importantly, I hope they all left with some new knowledge and new friends!